Hijri Calendar is Astronomy Issue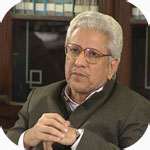 A respected religious scholar,
Javed Ghamidi says:

"Whether a calendar is solar or lunar, it is not religious matter; it comes under Ilm-ul-Falakiat (Astronomy). "To determine the beginning of a lunar month it is not necessary to see the moon with naked eye. Ulamaa' thought it was necessary to see the moon to start a month because of not understanding the context of the Hadith. The Hadith starts with the words, "the month is 29 days......." This phrase of Hadith is not mentioned in all the discussions about this. If sighting was necessary, then why it is not required to see on the 30th of the month. If for a 30 day month, science is the basis, then why science cannot be the basis for 29 days. It is Allah who has given the knowledge of science to man. To Iftaar a fast no one watches the sun; every one relies on the watch. At suhoor time, no one watches white light appearing in the sky; every one relies on watch. In the matters of astronomy the religious scholars should not interfere. If we do not reap the benefit of science then we will become a laughing stalk in the world. The witness or Shahadah for moon sighting is not a religious matter. Instead of insisting on sighting by bare eyes or relying on mistaken witness sometimes, the benefit of scientific knowledge must be used."
Moonsighting Conference
in UK, 2010
Moonsighting Conference in UK, October 31, 2010
Moonsighting Conference
in Canada, 2012

Masaajid in Greater Toronto accept global sighting
Sighting or Calculation - 2015

Debate in Southern California just before Ramadan 1436